Monitoring and reporting on Sustainable Development Goal 6
Through the UN-Water Integrated Monitoring Initiative for Sustainable Development Goal 6 (IMI-SDG6), the United Nations supports countries in monitoring water- and sanitation-related issues within the framework of the 2030 Agenda for Sustainable Development, and compiles country data to report on global progress towards SDG 6. IMI-SDG6 brings together the United Nations organizations that are formally mandated to compile country data on the SDG 6 global indicators.
To learn more about monitoring and reporting on SDG 6 and IMI-SDG6, visit https://www.unwater.org/what-we-do/monitor-and-report/ and https://www.sdg6monitoring.org
About the SDG 6 Data Portal
The UN-Water SDG 6 Data Portal brings all the United Nation's water and sanitation information into one place.
Hydrological, environmental, social and economic information from all countries and regions is integrated and presented in a range of infographics. Designed for decision-makers, advisors, technical professionals, researchers and students, there are tools to help users visualize and analyse the information, giving a clear picture of how the world is progressing towards the various SDG 6 targets.
The portal complements the Global SDG Indicators Database and indicator-specific databases.
The objectives of the portal are to:
Track overall progress towards SDG 6 at global, regional and national levels.
Enable assessment and analysis of the state of water resources and linkages to other sectors.
Raise awareness of water and sanitation issues to help catalyse action.
Encourage and improve SDG 6 monitoring and reporting at all levels.
Be an entry point to the wealth of water and sanitation information available within the United Nations system.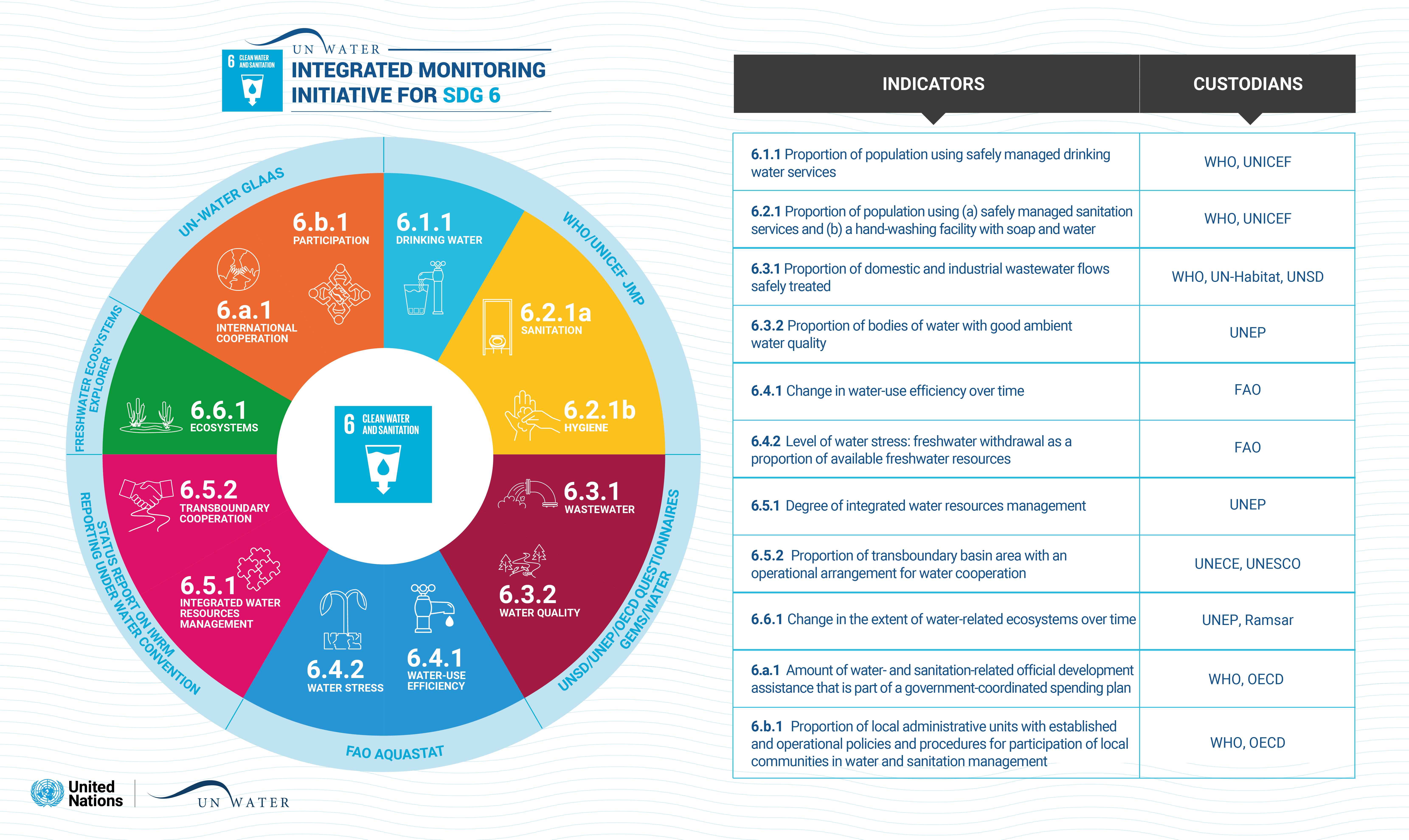 Participating United Nations organizations
IMI-SDG6 comprises United Nations Environment Programme (UNEP), United Nations Human Settlements Programme (UN-Habitat), United Nations Children's Fund (UNICEF), Food and Agriculture Organization of the United Nations (FAO), United Nations Economic Commission for Europe (UNECE) and United Nations Educational, Scientific and Cultural Organization (UNESCO), World Health Organization (WHO) and World Meteorological Organization (WMO).
Donors
The work of IMI-SDG6 is possible thanks to the generous support of the Governments of Austria, France, Germany, the Netherlands, Sweden and Switzerland. In addition, the participating United Nations organizations are receiving voluntary contributions from other support agencies that wish to support capacity building, data collection and reporting on specific indicators.